IPHD began its humanitarian aid program in Guinea-Bissau in 2003. Between 2003-2005, IPHD provided grants to 306 small farmers to rehabilitate their farm land following the destruction of many small farmers during the last civil war. IPHD also put water systems into two villages, and provided food aid to 10,000 people, mainly children and the infirm in hospitals and clinics. A leprosarium, near Bissau, the capital, was also helped. In 2005, IPHD began a multi-year school lunch program, with a strong malaria prevention program. Many children miss school during the school year due to several bouts of malaria.
In 2005, IPHD began to develop and implement a 3-year Food for Education Program in Guinea-Bissau. The program began by targeting 38,000 primary school children and pre-school children in kindergartens in the Districts of Cacheu, Bissau, Quinera, Bolama/Bijagos, Oio, and Biombo. Today, it reaches over 88,000 children in over 300 schools, including those children in Tombali District. In addition to foods donated by USDA, IPHD purchases tomatoes, salt, sugar, and many kinds of vegetables and fruits for school lunches. In 2005/2006, enrolment in targeted schools increased by 16 percent due to the appeal of meals at school. For many children, this has become their major meal of the day. Nonetheless, female enrolment still lags behind that of males – 45 to 55 percent – with the largest disparity in the Moslem area of Oio where only 39 percent of girls ages 5-11 even attend school. Absenteeism among students has also decreased. Again, it is highest in Oio because of cultural and religious practices. There has been a steady decrease in student drop-outs.
Along with the Food for Education activity, IPHD manages a malaria prevention program through the targeted schools. Since 2006, IPHD has distributed 40,000 mosquito nets to school children, distributed over 250,000 multi-vitamins, 300,000 iron sulphate tablets, and 40,000 does of Mebend. The IPHD malaria prevention team has provided information sessions to over 30,000 students in more than 100 schools and is reaching out to parents with fliers, pamphlets and talks about preventing malaria and care of the child suffering from malaria.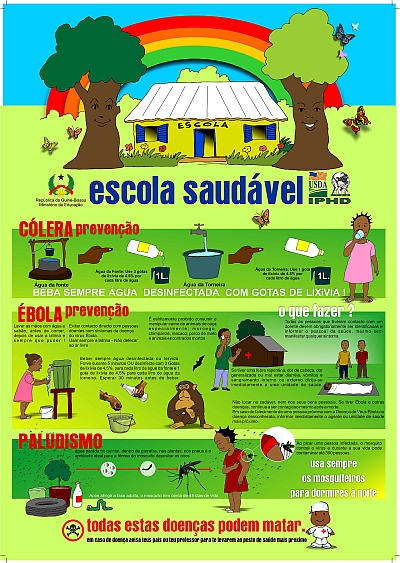 Recently, IPHD began to organize and strengthen parent/teacher associations at the schools. Over 30 percent of the schools now have a PTA or some kind of community organization that supports school lunches and school improvements.
However, 90 percent of the schools targeted by this program lack school texts, materials and equipment. Many schools have leaking roofs, no sanitary facility, and only rudimentary outdoor cooking areas. IPHD is seeking resources to repair schools and to provide children with learning materials.
Information about Guinea-Bissau:
Area: 36,120 sq. km. Almost the size of Connecticut
Highest elevation: 300 meters. • Climate: Hot, tropical, humid.
Population: 1.5 million.
Infant mortality: 110 per live births.
Life Expectancy: 46.6 years.
HIV/AIDS prevalence: 10 percent.
Infectious diseases: Country is classified as high risk for malaria, yellow fever, bacterial and protozoa diarrhea, hepatitis A, typhoid fever, schistosomiasis and meningococcal meningitis.
Ethnic groups: Balanta (30%), Fula (20%), Manajaca (14%), others.
Literacy: 42.4%. Female literacy is only 27.4%.